Our Aircraft and Cockpit Displays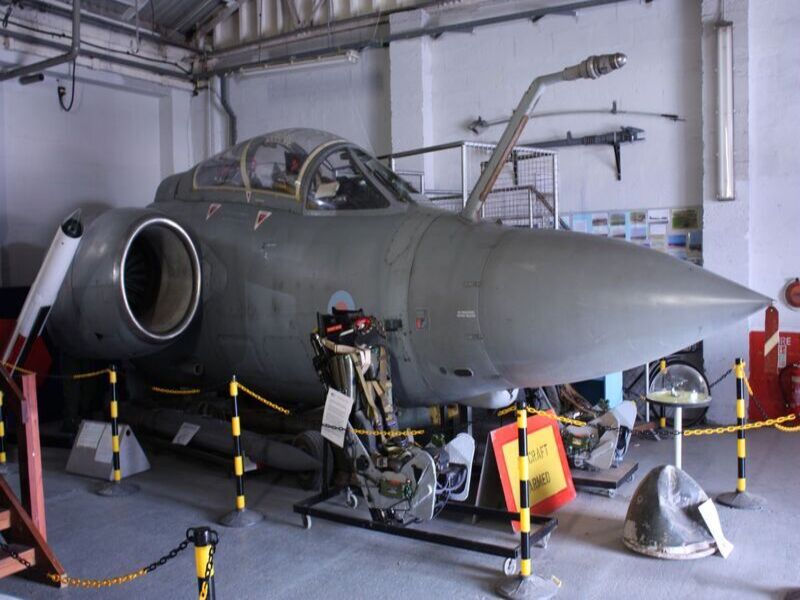 Blackburn Buccaneer S.2B, XV352 (Cockpit)
First flew on April 30th, 1968. After a spell at A&AEE Boscombe Down it was delivered to 208 Squadron at RAF Honnington in March 1977. It also served on 12 Squadron and 237 OCU at Lossiemouth between 1983 and 1991. Painted 'Desert Pink' and named 'Tamdu', it took part in the first Gulf War in 1991 where it flew 12 missions. Finally struck off charge in 1994, the nose section was saved by a private owner and placed on display here at Manston.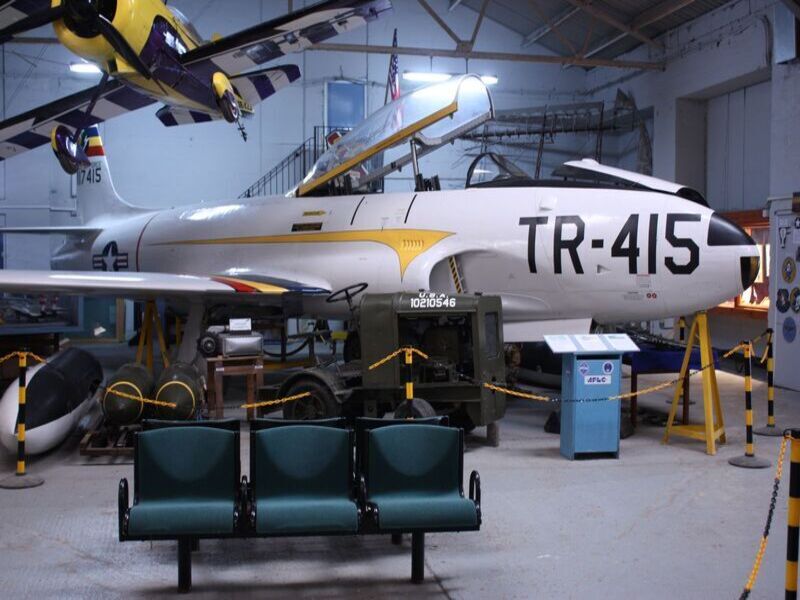 Canadair T-133 Silver Star Mk.3, G-BYOY
Started its service life with the Royal Canadian Air Force on 26th March 1954 and after 13 years' service, training prospective fast jet pilots, the aircraft was struck off charge on 23rd February 1967. Registered N36TH, it was used by several private owners, all based in California, as a display aircraft before being flown to North Weald in Essex in 1999. Due to various major faults the CAA declared that the aircraft was not airworthy, so the owner donated it to the museum where it arrived on 3rd February 2010. It is now painted to represent a Lockheed T-33, 51-17415 of the 512 FIS based at Manston in the 1950s.
De Havilland Chipmunk T.10, WP772
Served with the Army Air Corps at Middle Wallop and was used to train Army pilots before they moved on to helicopters. It last flew in 1990 and arrived at Manston in March 1999. It is now painted to represent an aircraft of No.1 Air Experience Flight based at Manston, an aircraft that gave a first taste of flying to many thousands of Air Cadets.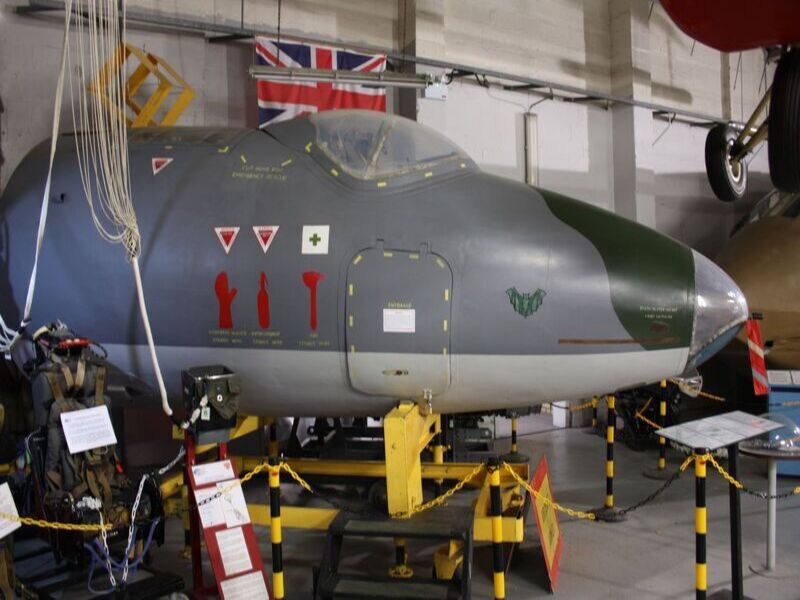 English Electric Canberra B.15, WT205 (Cockpit)
Was built as a B.6 and issued to 9 Squadron on 31st October, 1955 who was based at RAF Conningsby where it served for six years. In 1956, the aircraft was flown to Cyprus in support of 'Operation Musketeer', the Suez Crisis, but it is not known whether it dropped any live munitions. On 15th July 1961 the aircraft was transferred back to English Electric and converted to B.15 specification and was used as a trials aircraft by the company and the A&AEE. Struck off charge on 28th September 1972, WT205 was broken up but fortunately the nose section was saved and arrived at the museum on 14th October 2000.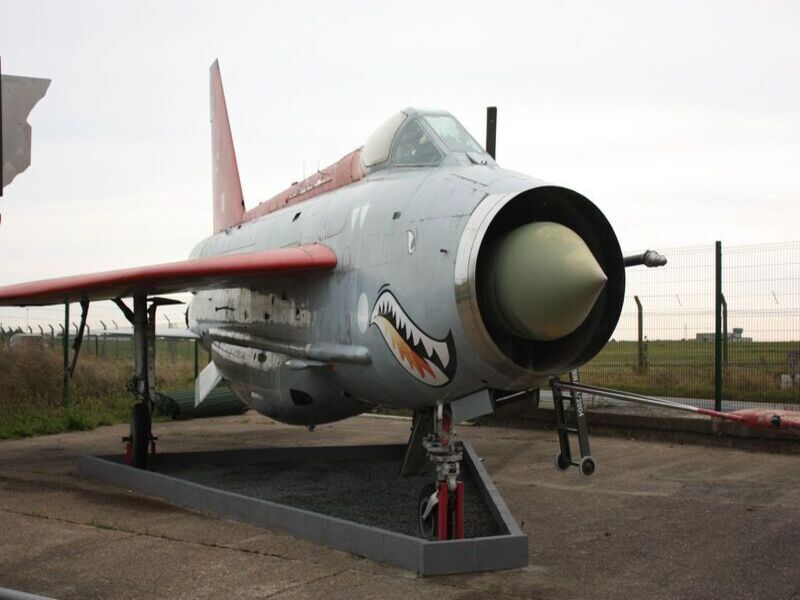 English Electric Lightning F.6, XR770
English Electric Lightning F.6, XR770, first flew on 16th December 1965 and was delivered to 74 Squadron on 26th September 1966. During its RAF service life it also flew with 56, 29, 2 and 11 Squadrons before being struck off charge in 1988. XR770 arrived at Manston from Waddington in March 2015 and is in the colours of the CO of 5 Squadron, Wg. Cdr. D A Williams.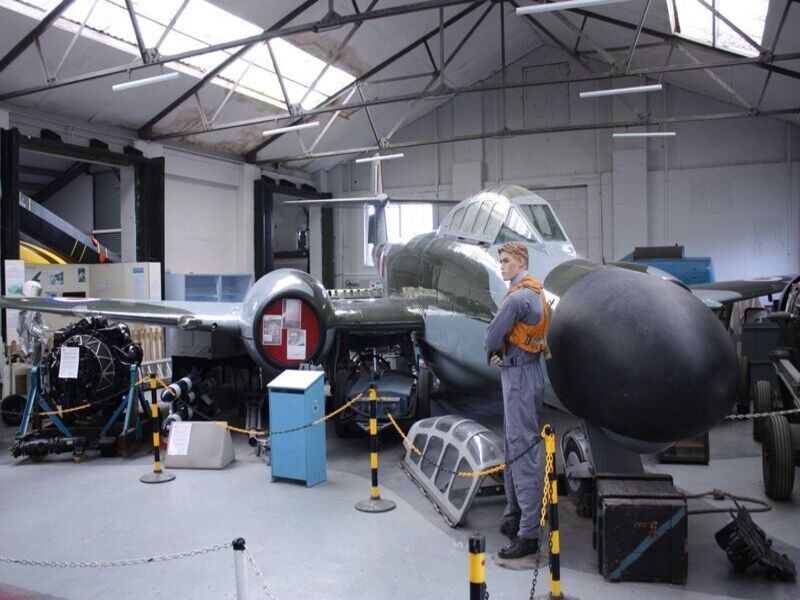 Gloster Meteor T.T.20, WD646
Was built in 1951 by Armstrong-Whitworth as an NF.11 night fighter. Converted to a T.T.20 target tug in 1959, it served No.3 Civil Anti-Aircraft Co-operation Unit (CAACU) at Exeter and No.5 CAACU at Woodvale. The aircraft last flew in 1971and has been painted to represent an NF.11 of 85 Squadron based at West Malling.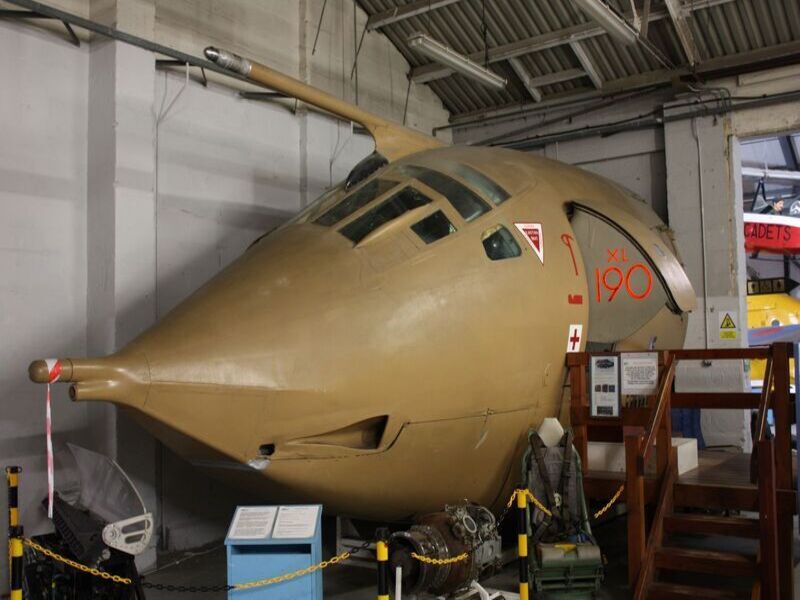 Handley-Page Victor K.2, XL190 (Cockpit)
Built at Radlett as a B.Mk.2, it was delivered to 139 Squadron at Wittering on 3rd May 1962. On 16th January 1964 it was transferred to 100 Squadron. The aircraft was converted to a tanker in 1970 and assigned to 232 Operational Conversion Unit based at Marham before being shared between 55 and 57 Squadrons. In 1991, it took part in 'Operation Granby', the first Gulf War where it flew 20 aerial refuelling missions. Struck off charge in February 1998 it arrived at the museum in early 1999.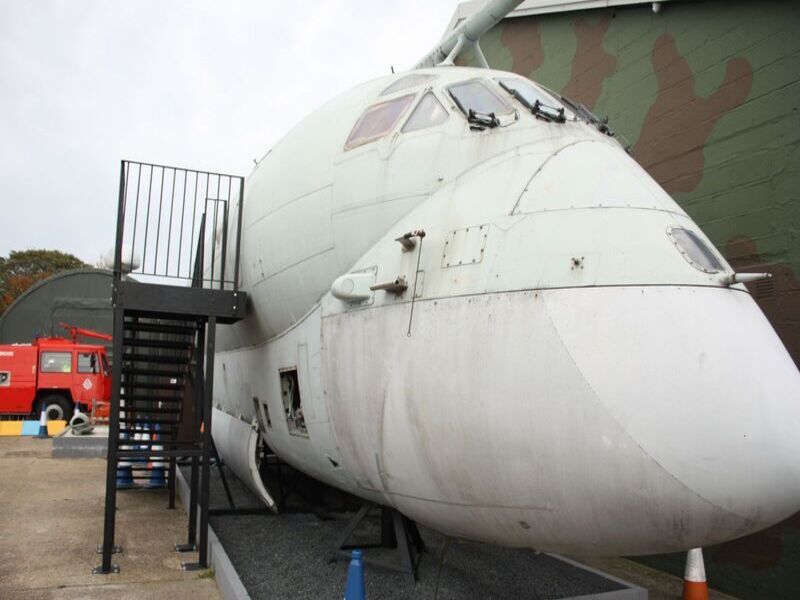 Hawker Siddeley Nimrod MR2, XV229 (Cockpit)
This aircraft was the last Nimrod to fly following retirement in March 2020. The last flight took place on 26th May 2010 XV229 flying from RAF Kinloss to Kent International Airport to be used as an evacuation training airframe at the nearby MOD Defence Fire Training and Development Centre.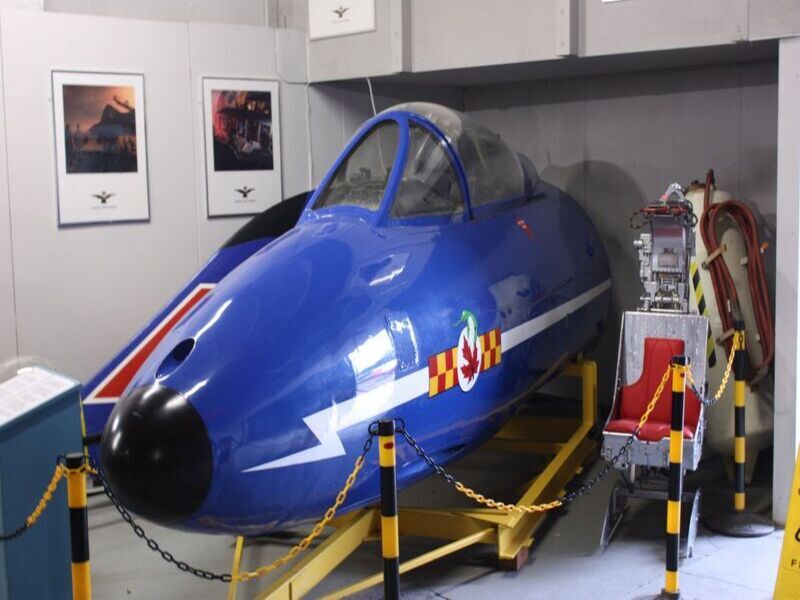 Hawker Hunter F.6A, XG226 (Cockpit)
First flew on 28th September 1956 and after a spell at 5 Maintenance Unit it was assigned to 66(F) Squadron at RAF Acklington on 29th October 1956. After 66 Squadron's disbandment, the aircraft moved to 92(F) Squadron in County Durham. 92 Squadron formed the RAF's aerobatic display team named 'The Blue Diamonds' and XG226 joined the team. The aircraft also served with 229 Operational Conversion Unit and Nos.1 and.2 Tactical Weapon Units. The cockpit section of this aircraft arrived at the museum on 23rd January 2003.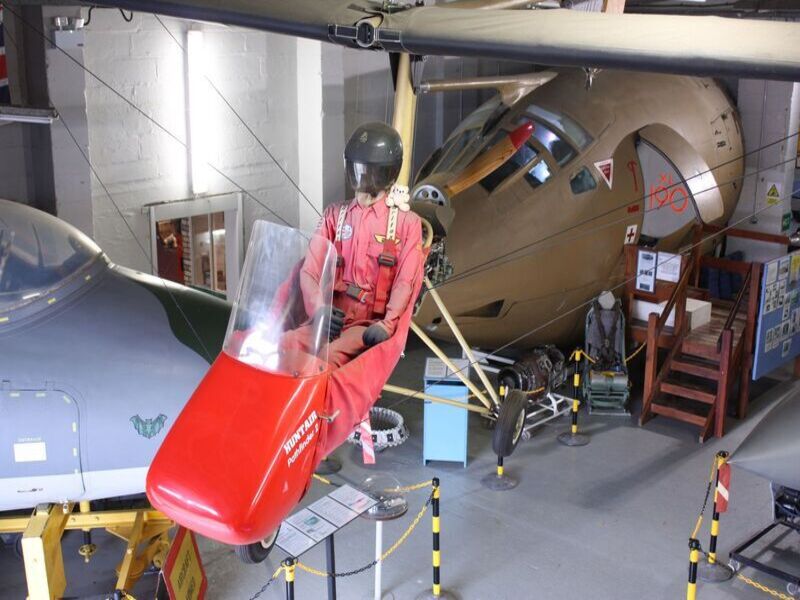 Huntair Pathfinder 2 Microlight
Initially made in Brighton in 1982 this microlight was exported to Indonesia. A short while after the aircraft type was deemed structurally unsound and it was never assembled. Freighted back to the UK, it spent the next twelve years in the owner's loft unassembled. Gifted to the museum in October 2003 and still in its original packaging, museum volunteers took 138 man-hours putting it together.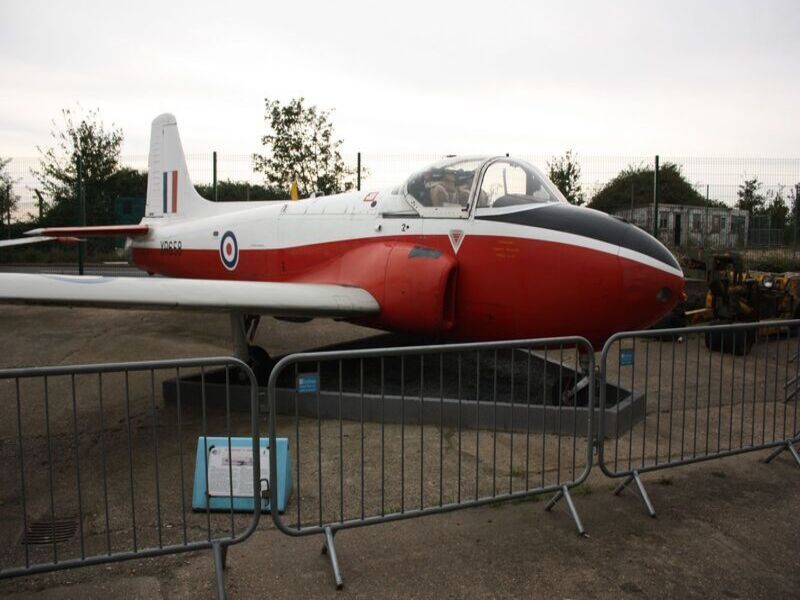 Hunting Percival Jet Provost T.4, XR658
First flown on 8th March, 1963 the aircraft went on to serve with 7 Flying Training School (FTS), the RAF College of Air Warfare and 6 FTS. On 26th October 1971, while on a navigational training exercise, the canopy detached from the aircraft and during the recovery the aircraft pulled 10G which overstressed the airframe. The aircraft was written off and never flown again but was used by the RAF Exhibition Flight before being sold to a private collector. The museum purchased XR658 and it arrived on 1st October 2016.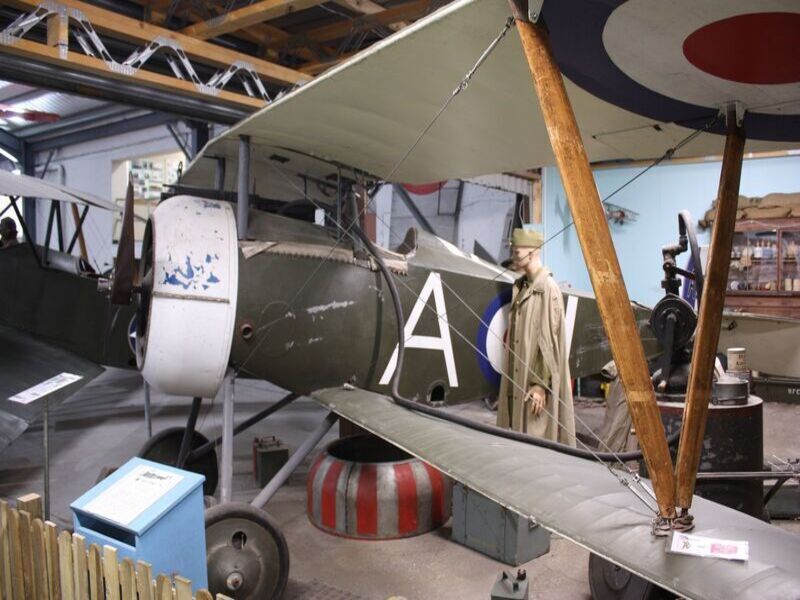 Nieuport 17 replica,
A.213
Built by a set designer for the film 'Flyboys'. This full-size replica has been painted to represent the aircraft flown by Captain Albert Ball VC and has been used by the museum at various military shows but is now permanently undercover. The museum obtained this superb exhibit in 2005.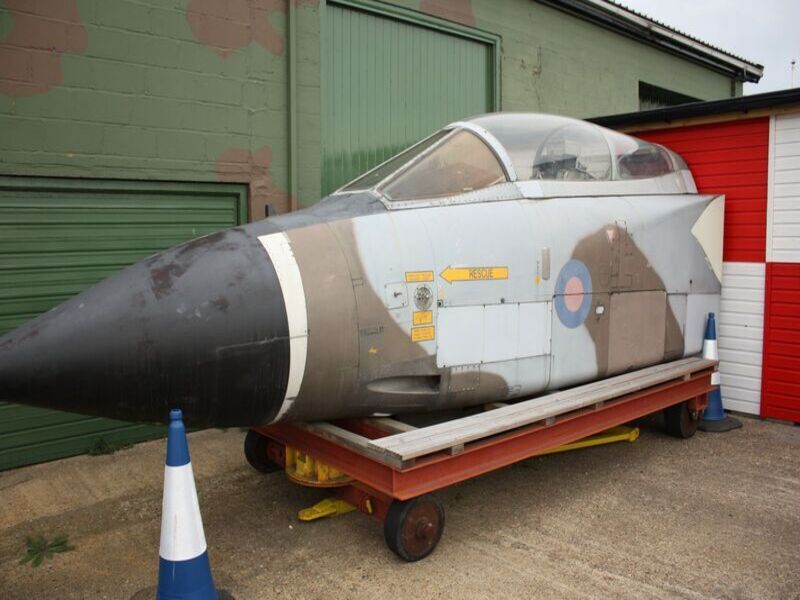 Panavia Tornado GR.1T, ZA325 (Cockpit)
One of only twelve 'twin stick' Tornados manufactured, it first flew on 8th September 1980 and was delivered to the Tri-National Tornado Training Unit at Cottesmore on the 13th October that year to train pilots of the three contributing nations, Great Britain, Germany and Italy. After the disbandment of the TTTE it went on to serve on XV Squadron. Struck off charge in 2001, the cockpit section became an instructional airframe before being used by the Fire Services Central Training Establishment (FSCTE) at Manston. It became surplus to requirements and was transferred across to the museum in 2010.
PZL-Mielec TS-11 Iskra,
SP-DOF
The first pure jet aircraft produced in Poland, the Iskra was designed to meet a requirement by the Warsaw Pact countries for a basic trainer. Although it lost the contract to the Czechoslovakian L-29 Delphin, the Polish Air Force decided to keep the Iskra. SP-DOF was the third prototype and first flew on 23rd May 1977 and was exhibited at the Farnborough International Air Show in 1978. The airframe remained the property of the PZL-Mielec company until the 4th March 1997 when it was sold and flown to England eventually being bought by TG Aviation at Manston. The museum purchased the aircraft and it arrived on 21st August 2013. It has since been re-painted to represent the Polish Aerobatic team 'The White and Red Sparks'.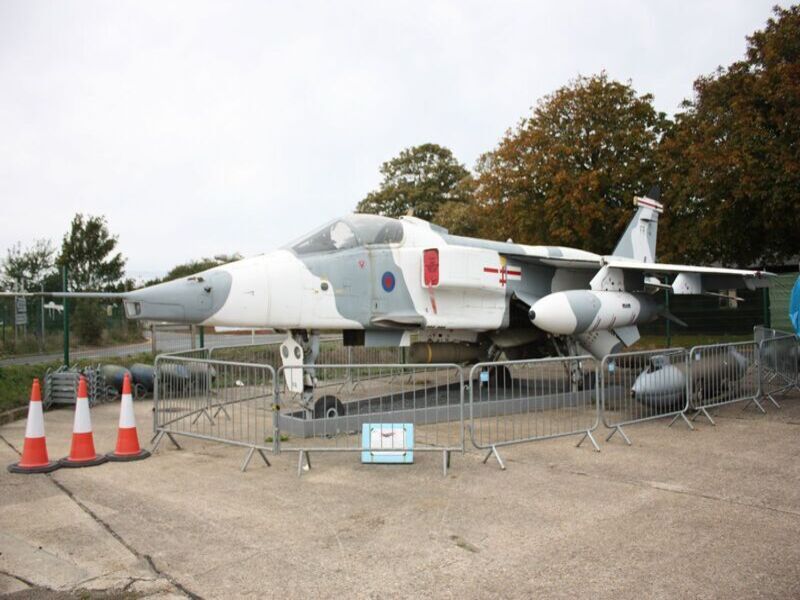 SEPECAT Jaguar GR.3, XZ106
First flew on 23rd February, 1976 as was allocated to II(AC) Squadron in Laarbruch, Germany. In 1990 the aircraft was painted' Desert Pink' and took part in 'Operation Granby', the first Gulf War where it flew 35 missions. On its return, it joined 41 Squadron at Coltishall and was upgraded to GR.3A standard. In 1994, the conflict in Bosnia was its next operational tour, where it took part in 'Operation Deliberate Force'. Retired from RAF service in May 2005 the airframe was disposed of in August 2006. The museum acquired the airframe and it was delivered on 21st November 2008.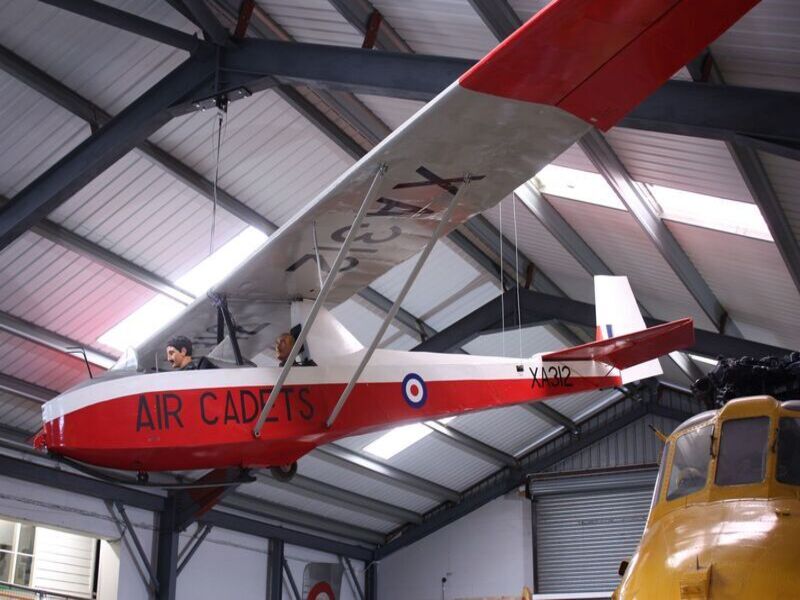 Slingsby T.31B Cadet TX.3, XA312
Built in 1953 this glider was designed to give Air Cadets their first experience of flight. It passed through several gliding schools until it was involved in a non-fatal accident on 13th April 1968 at Fairwood Common, Swansea where it was damaged beyond repair and written off. Rebuilt as an exhibition airframe and given a spurious registration of VM791, it was used as a travelling exhibit until acquired by the museum in 1999.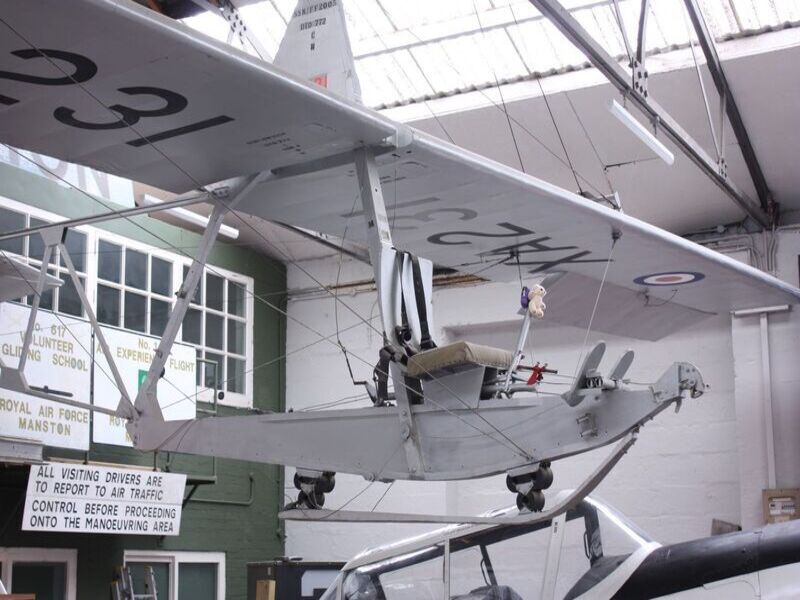 Slingsby T.38 Grasshopper TX.1, XA231
Little is known of the history of this glider which was based on a pre-World War II German glider, the SG38 Schulgleiter. The RAF took delivery of the aircraft on the 23 March 1953 and it was used as a primary training glider and launched by a 'V' shaped rubber bungee.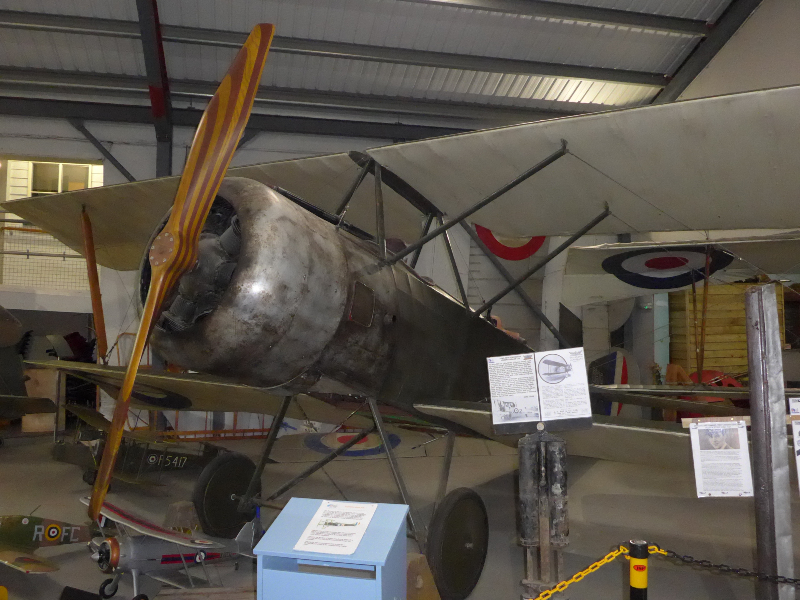 Sopwith 1½ Strutter replica, B.619
This full size replica was produced for the film 'Flyboys' and was acquired for the museum in 2005. This type of aircraft was one of the first to be stationed at RAF Manston. Plans are to paint the aircraft to represent an aircraft of 3 Wing, Royal Naval Air Service.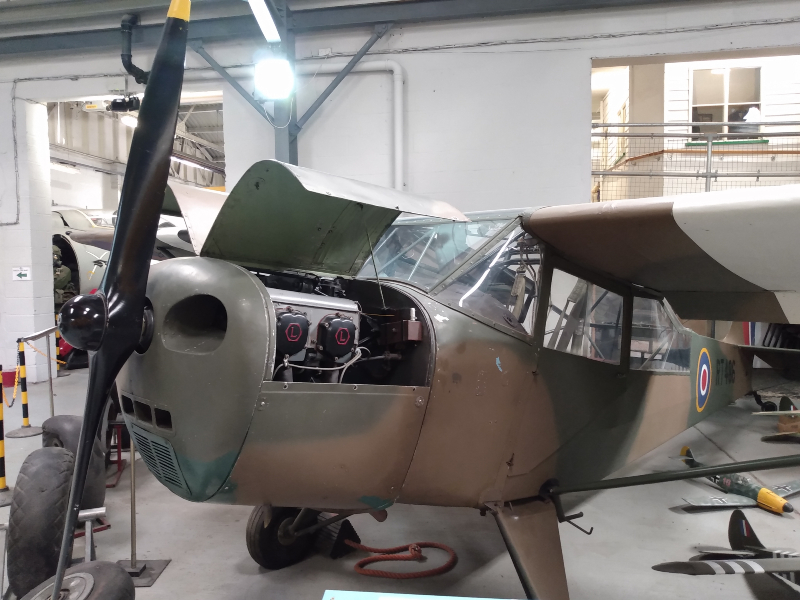 Taylorcraft Auster Mk5, RT486
The Auster was built using a simple tubular construction, covered by fabric. Being very light and manoeuvrable, it was well suited to Air Observation Post (AOP) duties and carried out reconnaissance and Artillery fire direction duties successfully for many years with both the Royal Air Force and Army Air Corps. A total of 1,630 Austers were built and many are still flying at the time of writing (November 2022). The Mark V was powered by a Lycoming 0-290-3 flat-four piston engine, producing 130HP (97kW).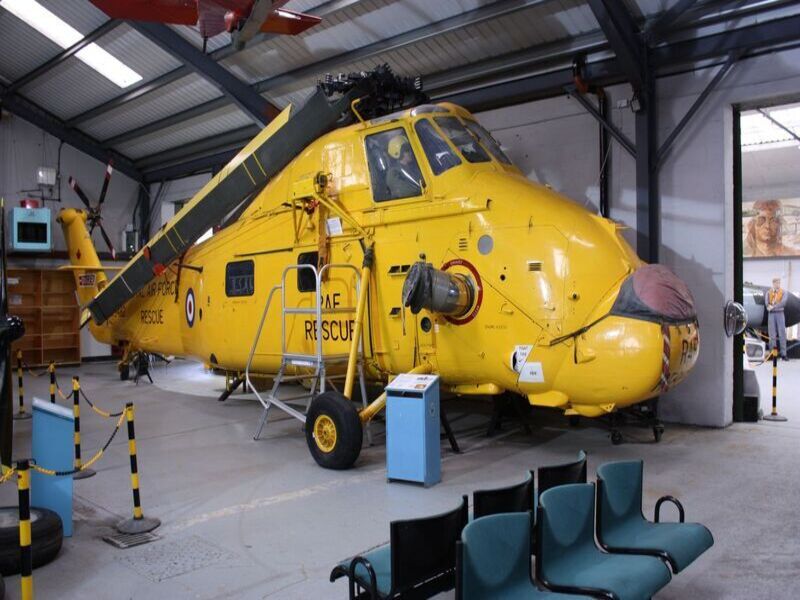 Westland Wessex HU.5, XS482
With its first flight on the 18th December 1963, this Royal Navy helicopter served with 700 and 848 Naval Air Squadrons of the Fleet Air Arm. In 1968, it became a research aircraft for de-icing trials and was based at Farnborough until 1985. During that time, it also conducted similar trials in Norway and Canada. After its withdrawal from service it became an instructional airframe at the Farnborough Apprentice School before being transferred to Manston. The museum acquired the airframe in 1999 and it was re-painted to represent a Wessex HC.2 of 22 Squadron, a unit that carried out Search and Rescue at Manston between June 1976 and August 1988.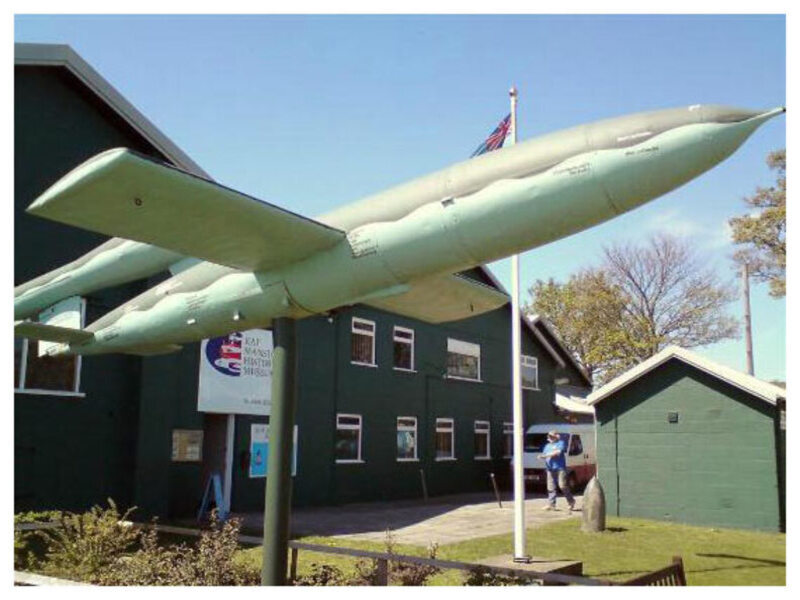 V-1
Flying Bomb
The V-1 was developed at Peenemünde Army Research Centre by the Nazi German Luftwaffe during the Second World War. During initial development it was known by the codename Cherry Stone. The first of the so-called Vengeance weapons (V-bomb) series designed for bombing of London. Due to its limited range the thousands of V-1 missiles targeted at England were fired from launch facilities along the Pas-de-Calais and Dutch coasts. The first V-1 was fired at London on 13th June 1944, one week after the successful Allied landings in Europe. At its peak more than one hundred V-1s a day were fired at southeast England, 9,521 in total, decreasing in number as sites were overrun until October 1944, when the last V-1 site in range of Britain was captured by Allied forces.